R Murphy Knives
Handcrafted in the U.S.A.

Murphy shellfish knives are the recognized leaders in the industry. Made with the finest cutlery steel, the blades are uniformly hardened and taper ground. Many styles are offered with handles available in a variety of shapes to meet personal preferences.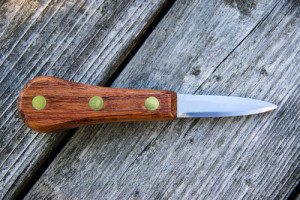 THE NARRAGANSETT. Possibly the perfect oyster knife–strong, thin, straight blade and stunning handle with a rounded base (so your hand doesn't bruise). Made in Massachusetts.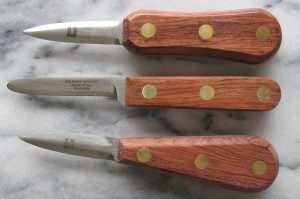 The DAMARISCOTTA and the WELLFLEET (plus a clam knife in the middle). The Cadillacs of oyster knives–strong carbon steel and stylish rosewood. Made since 1850 in Massachusetts by R. Murphy Knives.
About R Murphy
R. Murphy Company is an American manufacturer based in Ayer, Massachusetts. The company has been making cutlery in the Boston area since 1906, but have making knives in Massachusetts since 1850.